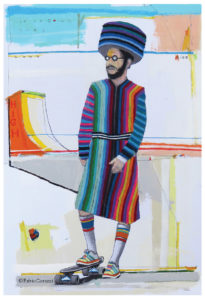 Bergamot Station is a hub for contemporary art in Los Angeles.
It's a lovely district in which a number of galleries and design shops exist close like a community.
The community sits next to the Metro Station in Santa Monica.
It has survived gentrification and eventually demolition.
Real estate developers are waiting – mouthwatering – like sharks in a tub.
Meanwhile, the city of Santa Monica has renewed the deal with the galleries.
Not long ago, I went there for opening exhibition night.
Potentially, the place should have been packed with collectors, gallery goers, artists and art lovers, families and kids. Especially young audience.
There are two elements born to be together but ignored by this silly society. Art and kids, children. I believe kids are part of a general education project towards adult people, often less intelligent than children in terms of perceiving arts.
Art and kids of all age is a natural, honest, spontaneous, creative mix for social education and cultural enhancement.
Traditionally, kids were not very welcome at exhibitions. I believe this fact, besides being a provincial attitude, always gave me motivation to bring my children to openings. When i see my kids shouting or running through the legs of the adult audience, I feel I am breaking some old rules
It's always a good time for breaking rules. After all that's what art is all about.
I think arts should often verge into a collective spirit but today happens the contrary. Art today represent the tool to develop worthless individualism and silly hedonism. It reflects the time in which we live: we feel often as lonely individuals with a compulsive habit to share privacy toward social media. Many people think that's a way to show off, I think it's a cry for help.
Hopefully someone will come to save us from the ditch.
Sharing sensations do not happens by a simple click on touchscreen.
Emoticons will not save humanity, even if a billion people would argue with that.
Art instead, it happens as we breathe. World perceive art only as media phenomenon, a way to spoil young generations convincing them of their unique, unrecognized, misunderstood, almost invisible talent.
Most people that goes to art show are over 50 years old of age. Where is the young art blood of this city? Seems like they are all busy at shopping malls. What the fuck.
Art has become so vague that real art lovers are giving up going to openings. What they see on the walls is what they don't like of the real world: everything seems fucking pretentious. The world of posers and pretenders took over the arts as well. They glazed the art world with thick dullness. If you see hundred young fellas at an opening, think that they should be at least ten thousands, because there are twenty million souls living in LA only and hundred people is like a fart in the middle of storm.
Besides rich students from university college, obliged to learn from expensive teachers,
are there not enough young audience to involve?
Art dies when human relations are going to extinction.
On the way back home, I drove by Fairfax Avenue. Finally I've found the young people of this alienated city. Thousands of young people, queuing since early morning to get Chinese plastic sneakers for the price of a diamond ring.
Do we need these human beings at art shows?
Don't think so: let them stay where they are.
FC