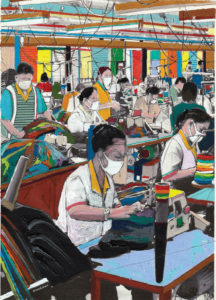 Knowledge is human
Ignorance is not human
Factories are human
Sweatshops are not human
Profit is human
Greed is not human
Fashion is human
Brainwashing is not human
Safety is human
Exploitation is not human
The artwork focus about the concept of human and not-human in terms of people's condition within their working environment.
Today's culture of greed has almost erased that thin line that separates what is human from dehumanization.
There are dozen of developing countries where human rights are not respected, daily working hours are double than Western standards and salaries are just enough to survive hunger.
What we wear everyday that makes us feel comfortable and "human", maybe it comes from a sweatshop in which there is no much safety or health security and workers' labor is exploited to the point in which there is not much of "human" left.